Our commitment is to protect employees from injury and occupational disease. Thunderhouse's safety performance is consistently better than the industry average.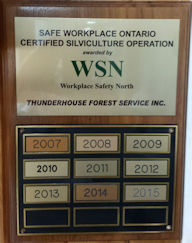 We attribute this to working closely with the Workplace Safety & Insurance Board and the Workplace Safety North (formerly Ontario Forestry Safe Workplace Association) to ensure a safe and healthy work environment.
Thunderhouse is a member of the Safe Workplace Ontario Safety Group and is Safe Workplace Ontario certified.
Staff is trained in first aid, CPR, WHIMS, TDG and propane handling. Appropriate licenses are held for driving and herbicide application to ensure safe and qualified operations on any project.
Regional health units are informed of our bush camp operations and invited to inspect our set-up. All drinking, wash-up and cooking water is treated. Water quality is tested at each camp location.
HEALTH & SAFETY RECOGNITION
See our letter of recognition below. Click on image to enlarge.